If you're creating content online, I'm going to show you 4 ways to repurpose your content to get more leads and sales. You've already done a lot of work. Leverage your activity, time, and content and reuse it!
The internet is a powerful tool for finding more people to talk to about your home business. There are 2 Billion people on facebook alone. But getting them to come to you? That's where "content" comes in — like videos and a blog. If you're not sure how to use the internet to get people to come to you, check out this post about attraction marketing.
Creating videos and blog posts is a lot of work, but what if you could use it more than once? Repurposing your content will bring more people into your world and connecting with you . None of us got into network marketing to spend more time staring at a computer.
Watch the video below to see how I repurpose my content to get more leads and my top 4 sources of leverage in my business.
BONUS: If you ever wondered if it's ethical to use the same content in multiple places, I'll tell you why it's actually your duty to put out as much content in as many places as you can.
In every blog post, I like to give you a free downloadable resource. What do you do with prospects once they're coming to you? Download my free Prospecting Formula for Busy Mompreneurs. In it, I'll show you how to find people to talk and what to say to them after you reach out to them or they reach out to you.
Here are my top 4 ways to repurpose your content to get more leads from new sources!
1. Turn your videos into blog posts.
After you create a video, especially a Facebook live video, take the transcript from the video and create a blog post out of it. You can rewrite it yourself or use a service, like Rev.com, to do it for you.
Creating live videos on Facebook is very quick. You come up with an idea, jot down a couple notes, and shoot it for 2-5 minutes. Boom – you're done. Now you have a video and a blog post in less than 10 minutes.
2. Publish your videos directly to social media platforms (not just on your blog).
Once you've created a video – either prerecorded or live – it will be hosted on the platform – either on Facebook (if you do Facebook live) or on Youtube if you upload it there. Don't just leave it there.
Give that video more life by sharing in on all the platforms. Publish the video directly to your Facebook profile page, your Facebook business page, Twitter, LinkedIn, Vimeo, Tumblr, Instagram and where ever you share your content.
3. Create an audio file from your videos.
Take your latest video, turn it into an audio mp3 file, and publish it for your followers. Sometimes audios are easier to listen to while you're driving or exercising. I prefer audios to videos. You can share these on your blog, on facebook, or even create your own podcast on itunes!
You can do this with software like Camtasia (PC), Screenflow (Mac), or outsource it. This is easy and cheap.
4. Turn your blog posts into free downloads.
Take your most popular blog posts, videos, or social media content and turn it into a free downloadable resource for your fans. For example, with this post, I could create a PDF with the details of these 4 strategies. Keep it plain or make it fancy. Your followers will love having easy access to your helpful advice.
When you're first getting started, if you don't have lead capture pages or an opt-in form, you can send the file directly to someone who requests it. You can offer the free resource on facebook and send it to people using messenger.
Don't let technology hold you back! Reach out, connect with people, and serve them any way you can.
BONUS: Is this ethical?
You might be asking yourself, "Won't people get sick of me or think I'm lazy if I have the same content on my blog, in a video on facebook, in a podcast, and in a free giveaway?
The shocking answer is NO! When your fans love you, they want to get your content in as many ways as possible. They'll catch some of your videos on facebook, then listen to audios while they're driving, and then print your guide to keep at their desk.
We need to hear things more than once for it to really sink in, especially when learning something new like network marketing.
"Is it ethical to repurpose your content to get more leads? I don't want to 'trick' people."
The answer is YES! Not only is it ethical, if you believe in what you're doing, you have a DUTY to get your content out to as many places as possible to reach more people and change more lives. If a mom spends a lot of time on Facebook, but has never listened to a podcast, your video needs to reach out to her on Facebook. If a busy sales rep is in their car all day long, reach them through your podcast. They will never find you on facebook!
Do you want to reach out to more people using social media? Pick up my Prospecting Formula for Busy Mompreneurs – How even the busiest mom can prospect 10 people a day without bugging their friends and family.
 Thanks for stopping by!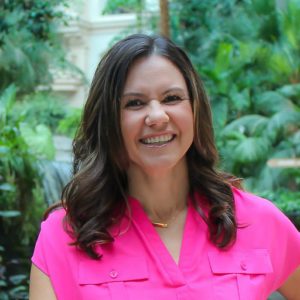 P.S. If you have any questions about this strategy, you can
reach me here
. I personally respond to all my messages!