Forget about just setting goals. Let's talk about achieving your goals in 2018. Setting goals is great and I love the process, but it's not enough. Here are 3 keys to achieving your goals in 2018. If you don't do these 3 things, you're gonna be in the same place next year. Don't let that happen!
Everyone is talking about resolutions, goals, the new year, and how to crush it. Whether you call them resolutions, goals or something else… Do you feel confident about achieving your goals this year?
No one wants to set goals they never achieve. We all want to accomplish our goals — make progress in life, have better relationships, make more money, and help more people.
Set a Word of the Year
Before we get into the 3 keys, let's talk about setting your intention for 2018.
Have you picked a word to represent 2018? It gives you a theme to keep yourself focused on achieving your goals and gives you a boost when you feel your motivation waning.
Think about who you want to be in 2018. Who do you have to become to achieve the goals you set for yourself? What do you have to do to reach your goals?
Here are some popular words for Word of the Year:
Finish
Purpose
Clarity
Grace
Slow
Power
Family
Connection
Move
Transformation
Consistency
Worthy
Watch the video below to find out my word of the year! Share your word in the comments. Pretty please!
How to Start Achieving Your Goals
Setting goals is fun, but achieving your goals is better! Sadly, only 8% of the people who set New Year's resolutions achieve them. That means 92% don't. This year, commit to being in the 8%. I'm going to give you my top 3 tips to achieving your goals and making 2018 your best year ever.
#1 – Know Your Money Making Activities
If you want to:
Have a successful network marketing business
Rank up
Make more money
Help you and your team with achieving your goals
then, write down what makes you money in your business. It should have some element of prospecting, recruiting, and teaching your team how to prospect and recruit.
If you're serious about building your business and an income, you need to prospect a certain number of people every day. The number should be tailored to you and your situation. It doesn't need to be a huge number. It needs to be a goal you'll complete daily.
There's no prize for the biggest goal. Ray Higdon
It's better to prospect 2 people a day, for the entire year, than to prospect 20 people a day in January then not do anything the rest of the year.
If you want to learn how I find new people to talk to every day about my business, grab my Prospecting Formula for Busy Mompreneurs below.
Second, to make money in network marketing, you need to recruit new teammates and customers.
Finally, you need to teach your team how to prospect and recruit, both customers and teammates.
Whatever your money making activities, make sure they are in your schedule every day and every week.
#2 – Write Down Your Goals & Make them Realistic
Writing down your goals increases your chances of achieving them by 42%. Make them realistic, borderline small. Set your goals then cut them in half. When you set giant goals, they don't get achieved. You don't feel like you're making progress and you quit.
Most of us have busy lives, jobs, families, friends, and more than just a business in our lives. Make your goals in conjunction with the rest of your life and acknowledge that those things take time. Don't neglect them while you're building a business.
#3 – Set Quarterly, Monthly, & Weekly Goals
Set annual goals, then plan the next 6 months only. Then break them down into quarterly, monthly, and weekly activities.
Planning, doing, then monitoring your activities is how to achieve your goals.
Break your goals down into activities, then review them every week to see how you did.
Weekly Check-Ins
Did you achieve your goals?
Why or why not?
Were they unrealistic – too big?
Were they too easy – too small?
What will you do to change it?
Make your goal bigger or smaller?
Do you need to adjust the goal so you'll do it, like changing offline prospecting to online prospecting?
Do you need a different method of operation?
Find what works for you. It's a process. This is the power of the weekly review. If you review your goals weekly, you can adjust and keep going.
You won't let a month, 3 months, or a whole year go by before you realize your goals aren't working.
Why Should You Make Your Goals Smaller?
If you see yourself making progress, you'll stick with the goal. Bottom line. People give up on their goals because they don't see progress and they feel discouraged and like a failure.
Set smaller goals. Make progress. Realize you're awesome. Keep going. Achieve your goal.
If you want more help and accountability, reach out to me on my facebook page.
If you want to learn how I find new people to talk to every day about my business, grab my Prospecting Formula for Busy Mompreneurs below.
Here's to setting and achieving your goals in 2018!
Thanks for stopping by!
Kari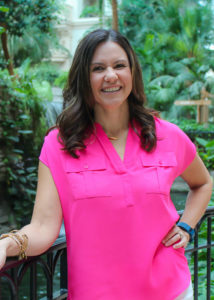 P.S. If you think this will help your team, feel free to share it!