By now, you've set some exciting goals and you want to make sure you can achieve them.  Ready for the secret? You need to review your goals on a regular basis.
Have you ever set goals on January 1st, then by July realized you were in the exact same place as January? We've all done it and it's frustrating. We have high hopes at the beginning of the year, then life happens and our goals get away from us.
When I'm not achieving my goals, I can trace it back to not reviewing them enough, not keeping them top of mind.
In this short, 5-minute video, I explain how often you should review your goals and why. Check it out… it could change your year.
Reviewing Your Goals More Often is Better
1. Review your goals weekly to see your progress.
You should review your goals on a regular basis – biannually, quarterly, and monthly, but to really track the actions you're taking and make meaningful adjustments, review your goals every week.
This applies to a money goal, prospecting goal, workout goal, or any other goals you've set.
In the planner I use (the Full Focus Planner from Michael Hyatt), there is a space to write my 3 goals for each week, then to review them at the end of the week.
You don't need a planner to do this. Write them on a piece of paper. You'll be surprised how much this helps you focus on what's important — actual activities that will move you closer to your goal in the next 7 days.
VERY IMPORTANT POINT —->>>
If you achieve your weekly goal, you should celebrate! Give yourself a whoop whoop, a pat on the back, a special treat, or a dinner out, but do something!
Celebrating will help you want to achieve more goals!
2. Read or Write Your Goals Daily
You're already writing and reviewing your goals every week. Do you really need to review them down every day?!
Yes!
Napolean Hill, author of Think and Grow Rich, recommended reading your goals every morning and every night with feeling. Then your brain will always be working on ways to achieve your goals, whether you're consciously thinking about them or not.
Multi-millionaire sales trainer, Grant Cardone, writes his goals every morning in his planner.
Michael Hyatt frames his annual goals and places them on his desk, so they're always at the top of his mind.
Use whichever strategy works for you, but it's obvious that writing goals on January 1st and expecting them to happen is wishful thinking. Your goals deserve more attention than that.
I would love to hear your goals for 2018. Please share them below! Let me know if you're going to start the weekly goal review or the daily goal review. I'm starting weekly and daily and I'll let you know how it goes.
Remember to practice it, just like any habit, and keep trying if it doesn't feel natural right away.
Thanks for stopping by!
Kari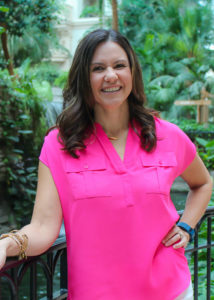 P.S. If you want more help and accountability, reach out to me on my facebook page.
If you want to learn how I find new people to talk to every day about my business, grab my Prospecting Formula for Busy Mompreneurs below.